About Flügelchen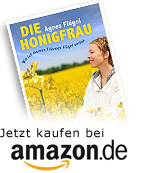 Hello and Bom Dia,

my name is Agnes Flügel, which means "wing" in German. After studying Communication and Arts I worked for Media and Online companies in Hamburg, Germany. However, ten years ago I decided to fulfill my dream of living and working in the countryside and quit my job in the city. I felt the need to do something more sustainable and with a closer connection to nature. The readers of my German bestseller "Die Honigfrau", Ludwig, 2011 accompanied me in my life changing transition, my voyage and the founding of my "Honigmanufaktur Flügelchen". They also witnessed the ups and downs of my new start as a beekeeper. Determined to bring something new to the old-fashioned honey business, I created exquisite honey blends with mint, expresso or rose petals as well as a cheerful packaging to express this new change in the way honey is presented and enjoyed. The impact of the book and the quality of the honey led to its manufacturing and an incredible chain of events. I had the opportunity to be invited to german tv talk shows and to be featured in dozens of newspaper and magazine articles in, for example, Stern, Brigitte, Bild der Frau. All this made me Germanys most well-known beekeeper.
The Present:
In the meantime, "Flügelchen" has established itself in the market and celebrated its tenth anniversary in 2018. Thankfully, I look back on those years as being as intense as they were instructive. I would not change a thing. Not even the countless stings brought to me by working with my bees. They were and still are my teachers: Bees work in a team. That's what I am doing now, so I am delighted to have found colleagues in the Eckernförder Werkstatt, an organization for people with disabilities, who are there for me and who enjoy the meaningful and sustainable work with bees and honey just as much as I do.
The Future:
Life means changing, whether we like it or not, also in that bees are my masters. They are flexibel and adjust to the times since millenia. Much more time than I have for myself. So I decided after ten happy years in the countryside to swarm again. To enrich my life with new experiences and to fulfill another dream. Now my wings carried me to Lisbon. The city that has a special place in my heart. Inspired by the lively and warm-hearted melody of Lisbon, I am writing a new book that will be published by Rowohlt, Hamburg in spring 2020. Miss Flügel flies! Fly with me and look forward to what I bring from my voyages when I return home to my hive.
Cordially yours